From Good To Great In Dashboard Design: Research, Decluttering And Data Viz
Quick summary ↬

Dribbbleshots just might be the hotbed of questionable dashboards. Striking visuals, little context, and no research: all recipes for mediocrity. Mediocrity won't do. We'll pursue greatness. And in that pursuit, we'll cover research, decluttering, and data visualization.
Even if it's a blessing in disguise, discarding elements of your work is no fun. Tossing out suboptimal parts of our design can be a daunting task, especially after you've invested hours of work into it. But make no mistake, this is a bias most designers are prone to. We can get too attached to things we've created, despite them not providing any real value to our users. Here lies the difference between okay and great dashboard design. The former is fairly easy to achieve. The latter isn't.
I've compiled a few things that I've learned throughout my career with regard to dashboard design. In this article, we'll talk about research, decluttering, and data visualization, as well as how these things can make your dashboard design better.
Definition
A dashboard is a part of an application that displays global information about the app's usage or any other external data. They come in different kinds, from relatively simplistic one-layered dashboards like this one:
While others are more complex and multilayered ones like the one below: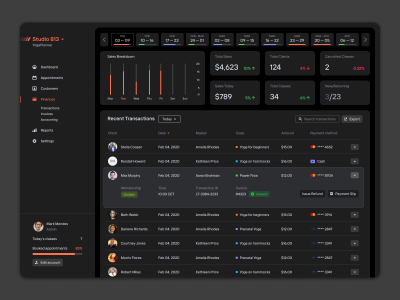 The recommendations we will provide in this article apply to a wide range of dashboards, regardless of their complexity.
Before diving into our arguments, first, let's sort out what I mean by "mediocre" and "great". These terms imply a value system that isn't exactly conventional, so I owe you an explanation.
Mediocre vs Great Dashboard Design
The difference between "mediocre" and "great", I believe, lies in the process. There's also a continuum involved between these two categories. In the context of this article, the axes of this continuum are as follows:
Sourcing inspiration (copying),
Research (referred to in the next section as "homework"),
Design Validation (substantiating design decisions with data),
Data Visualization,
Color Palette.
| | Mediocre | Great |
| --- | --- | --- |
| Sourcing inspiration | ✅ | ✅ |
| Research | Limited and fragmented | Consistent and purposeful |
| Design Validation | Limited to internal stakeholders | Inclusive of both internal and end-users |
| Data Visualization | Heavily focused on aesthetics and trends | Data viz solutions are consistent with its purpose; a good balance between efficiency and complexity; |
| Color palette | Arbitrary / trend-based | Utilizable of color connotations, and alignment with brand values |
(Throughout this article, all references to mediocrity are based on these distinctions)
Now that we've sorted out the definitions, let's quickly give an overview of my arguments. In this article, I suggest that, as opposed to mediocre dashboards, great ones require:
Research,
A healthy dose of cluttering & decluttering,
A thought-through color palette.
First, let's break down research, or "homework" as I like to call it. How do you even do "homework" as a designer? Is it ok to copy someone else's work as long as you don't make it obvious? Or do you start from scratch every time? — Let's think this through.
More after jump! Continue reading below ↓
Doing Your Own Homework VS Copying Your Peers
Sure, there's always the option of copying and tweaking what your competitors already offer. Or, if there are no close equivalents, you can just "Frankenstein" the elements together from similar dashboards. This indeed sounds easier than "reinventing the wheel". "*Good artists copy, great artists steal,*" as Picasso's quote goes — but, unfortunately, this approach is likely to doom your design to mediocrity. Let me elaborate.
A quick disclaimer: if what you're looking for is to learn, then by all means copy great designs and try to learn from them. However, if you're working on commercial / "real" projects, then copying alone doesn't do.
First of all, theoretically speaking, you could strike gold by copying great dashboards. There's a catch, however. What is the likelihood that your source of inspiration is well-researched, practical, and most importantly applicable to your particular situation? Are the dashboards you've found worth stealing? Who knows. If you ask me, however, I wouldn't bet on it. This ties in well with the ideas Austin Kleon outlined in his book Steal like an artist.
Secondly, when you're sourcing inspiration, all you see is the end product: a colorful nice-looking dashboard. Rarely can you find inspiration accompanied by a thorough analysis of the process, research, and decision-making involved. This leads to something akin to a cargo cult, i.e. replicating the patterns you see without understanding why.