Open-Source 3dicons Library: Case Study And Free Downloads
Quick summary ↬

In this article, Vijay describes his learning experiences during the design stages of creating his 3dicons image library (a free library for product screens, social media posts and marketing campaigns), which you can download and use for free.
In February 2021, I began studying 3D illustration using by following BlenderGuru's (Andrew Price) tutorials. I firmly believe that learning by doing is the best way to learn. Picking an icon and following the steps on how to construct it in the 3D space was a great challenge for me, as each icon required a different approach to modeling.
While learning, I noticed that the number of icons in my project had grown to almost 30, and at this moment, I decided to release them under an open-source license. I started preparing more icons for the most commonly used cases, and in the end, I created exactly 120 icons.
Then the main objective evolved into creating a set of icons that could be used on product screens, presentations, and social media posts. These icons should be rendered as product-ready assets, but I also wanted to share the editable source files with the optimized and exported icons.
In this article, I will share my experience of learning and managing to release this large set, where the images alone take up 3.8 GB in size! I have divided it into five parts:
Note: If you just want to download the 3dicons library, you can jump straight to the "Conclusion and Download" section at the end of the article.
Why Open Source?
Firstly, I believe in open-source design. Often, a project starts with the intent of learning and practice, when we redesign existing websites and apps like Facebook and Netflix, or various design screens, objects, or icons of interest, and then we post the results on Dribbble, Behance, and many other social platforms. We do this to improve our own skills, but when someone works on a concept, why not also share the source files with the community so that people can learn and benefit from how the design was crafted?
By sharing our source files and best practices, we uplift the community and make the Design world better. After realizing this (and also drawing inspiration from Pablo Stanley's work), I decided to do something similar.
In 2019, I shared my first source file, which had 100+ illustrations. I had these illustrations sitting on my hard drive for years, but they were only taking up storage space. I wanted to make this resource available to the community and share it under an open-source license. Then I thought the same about the 100+ 3dicons, which I next created with the sole purpose of learning 3D design.
Important: Releasing my icons for free does not mean that I want to diminish the value of other artists' work.
Secondly, there are a lot of 3D illustrations and icons available online for free or for a small fee. Unfortunately, most of the free resources out there do not allow you to modify them as you see fit — these freebies are often nothing more than a link to purchasing the final product. At the same time, many designers in the community are just starting out and need low-cost resources to learn from and use in their projects. These 3dicons should help them to get started, and when they are ready, they can either create their own 3D icons and art or buy and then build upon some existing ones.
Update: 3dicons has just been nominated as one of the finalist projects in the Figma Community Awards! (Editor's Note in the last minute)
Tools Used
As a designer, I'm a huge fan of Apple products! But learning 3D on a 16" MacBook was not good enough for me, so I decided to build my own PC specifically for learning 3D design. The following are some of the hardware and software tools that I used to craft the project's files:
More after jump! Continue reading below ↓
Process And Learning
I created all these icons in Blender. Some of them were first doodled on an iPad using Procreate and then modeled in 3D. After modeling, all icons were rendered in different angles and styles for multipurpose use. I was considering releasing to the public both the rough master file and all the production-ready assets, and for this, I needed some sort of a plan.
Planning Stage
To manage all my projects, I use Notion. First, I created a board and listed all the initial requirements there.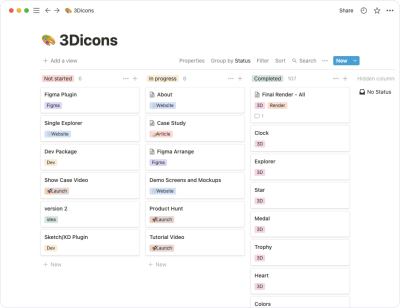 Modeling
Some icons are easy to make and can be directly created from a reference. Some of them were conceived as doodles on my iPad using Procreate and then imported via Google Photos to my Windows machine. I created a basic guide window, and then all the icons were put together as a single file. This initial stage was quick, but then properly rendering all those models one by one was quite a challenging bit of work.